Benefit updates from April 2019
The National Living Wage is going up to £8.21 an hour 
You are legally entitled to the National Living Wage if you are aged 25 or over, and not in your first year of an apprenticeship. Those under 25 and apprentices also benefit from rises in the Minimum Wage. The National Living Wage and National Minimum Wage rates apply across the UK.
The rate at which Carer's Allowance is paid has increased…
from £64.60 to £66.15 and the Carer's Allowance earnings limit has increased from £120 to £123 a week (after deductions). Click here for more details
Other benefits that went up
The carer premium (carer addition within Pension Credit) went up from £36.00 a week to £36.85 a week. The carer element is an equivalent amount paid with Universal Credit – this is increasing to £160.20 a month (approx. £37 a week). The rates for Disability Living Allowance (DLA), Personal Independence Payment (PIP) and Attendance Allowance were also uprated. Click here for more information on Carers and Disability Benefits
Continuing roll-out of Universal Credit (UC) 
Universal Credit is a single means-tested benefit which replaces Income Support, income-based Jobseekers Allowance, income-related Employment and Support Allowance, Housing Benefit, Child Tax Credit and Working Tax Credit.With the roll-out of UC across the UK, working age people wishing to make a new claim for means-tested benefits will have to claim UC.

People already receiving means-tested benefits will only need to claim UC if they have a change in circumstances (that means they have to make a new claim for one of the above means-tested benefits). The managed migration of people on existing benefits to UC is due to start in late 2019 and will be completed by 2022.  Click here for more information on Universal Credit.
Becoming a nursing associate – How to become a nursing associate and find a course in England
A nursing associate is a new member of the nursing team who will provide care and support for patients and service users.The nursing associate role will be regulated in England only. We became the legal regulator for nursing associates in July 2018.
Nursing associate programmes
Until 26 July 2019, you can begin training as a nursing associate in England via a: nursing associate programme delivered by a Health Education England (HEE) approved nursing associate pilot site, or nursing associate apprenticeship programme. After 26 July 2019, you can only begin training on a NMC-approved nursing associate programme.
Where to find training programmes
If you're interested in becoming a nursing associate and you're currently employed as a health or care professional, you can ask your employer for advice on the options available to you. We'll be updating our list of approved programmes from June 2019 to include nursing associate programmes as we approve them.
Progression to nursing qualifications 
The government wants to see nursing associate qualifications help people with the desire and ability to become a registered nurse.
We've designed our standards in a way that makes it easy for education providers to develop programmes that will build on nursing associate proficiencies.
These programmes will need to enable students to develop a specialty in a field of nursing. For more information on becoming a Nurse or Midwife please click Nursing & Midwifery Council
Level 1 Certificate in Customer Service and Communication – Want to work in Customer Service?
Learn how to provide great customer service, improve your communication skills, and understand the principles of good customer care.
This 6 day course looks at responding to the needs of your customers and colleagues, communicating effectively, rights and responsibilities, dealing with problems, using the phone to communicate, and other topics. The course is useful for anyone wanting to work in customer service in any field. You will gain your qualification through a series of exercises and filling in of a workbook.
These courses are FREE for anyone on means tested benefit or for anyone who earns less than £330/month or £15,000 year.
Click here for further information.
Please call us on 020 8868 5224 for any further information and ask for a member of the Working for Carers team. We'll be happy to answer any questions you may have.
Working for Carers will be present at the following events. Please do join us.
Heathrow Jobs & Careers Fair – Thursday 28th February 2019
The Heathrow Jobs & Careers Fair will take place on Thursday 28 February 2019 at Sofitel Heathrow, Terminal 5.
Heathrow Jobs and Careers Fair is an annual event. It aims to inspire local schools, parents and job seekers as part of the airport's investment in the local communities of Ealing, Hillingdon, Hounslow, Slough, South Buckinghamshire, Spelthorne and Windsor & Maidenhead.
The event showcases some of the 413 companies that operate at Heathrow and the thousands of different skills development opportunities and roles available.
For more information and to register click here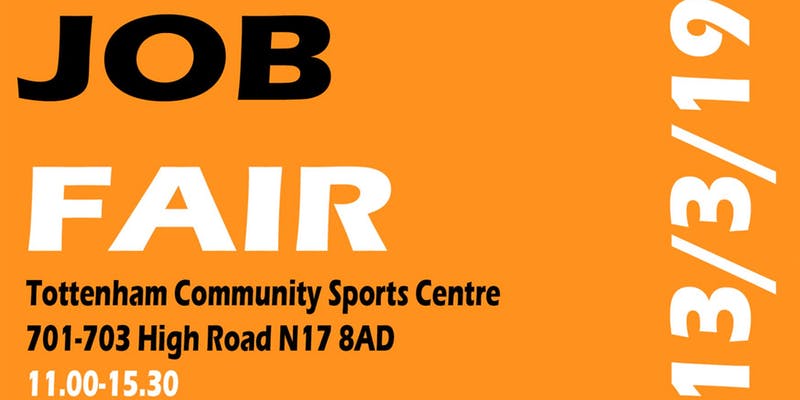 Job Fair – 13th March 2019, Haringey
Crutch Harinegy is hosting its next Job Fair oppposite the new Tottenham Hotspur football stadium. There will be over 50 exhibitor stands including job opportunities, apprenticeships, training and career guidance and support.
Last year over 400 visitors attended.
This is a free non ticket event open to all – please click here for more information and to register
Level 2 Advice and Guidance (IAG) Qualification
Want to work giving advice and guidance to people?
This 5 day course is suitable for anyone who wishes to start a career in advice work (or who already volunteers or works in this field), and will provide a basic level qualification to those wishing to give advice and discuss options for customers and clients in careers, housing, employment, rights, debt, counselling and training/education.
The course covers definitions of advice and guidance, the skills needed to give advice, listening and communication skills, meeting the needs of the client, boundaries, referral, and legal/ethical issues. You will get to practice your skills through exercises and role plays, and will achieve the qualification through a series of small assignments.
Click here for further information.
Please call us on 020 8868 5224 for any further information and ask for a member of the Working for Carers team. We'll be happy to answer any questions you may have.