Who is a Carer
A carer is anyone, including children and adults, who looks after a family member, partner or friend who needs help because of their illness, frailty, disability, a mental health problem or an addiction and cannot cope without their support. The care they give is unpaid. There are around seven million carers in the UK, 689,000 carers in London, with thousands of those being based in Harrow. We support carers of all ages and backgrounds and have specifically tailored services for young carers (17 and under) and older carers.
The Care Act 2014 came into effect in April 2015, formalising the legal rights you have as a carer. The Act states what you are entitled to legally from the government and how to receive it. The act can be found below.
The Children and Families Act of 2014 outlines the rights of young carers and parent carers in terms of government support. This can be found below.
If you have any questions regarding the Act and your rights as a carer, we can help you understand better. Contact our friendly staff to talk to someone about how the Act works.
The 2014 Care Act and additional information can be found here on the UK Government website; for the 2014 Children and Families Act please click here.
Have you checked out our carers' guide?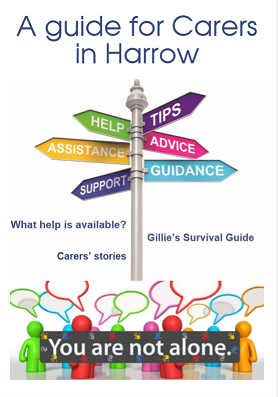 Want to know more?
Call us on 020 8868 5224
Carers Strategy 
Harrow's unpaid carers are vital to the wellbeing and independence of thousands of vulnerable people. They are as diverse as the people of the borough, live in all parts of the borough, include young people under the age of 18 and come from all sections of the community. Some may have become unpaid carers recently, when a family member, partner or friend became frail. Harrow Borough Based Partnership has created a strategy for carers in Harrow. The strategy aims to reach out to unpaid carers so they are identified, supported and highly valued as part of the health and care team and provided with the right services, information and advice to help them in their caring role and their life outside of it.
Tailored Services
Harrow Carers provide support for unpaid carers in a person-centred way. That means listening to you to understand what kind of support may be most helpful for you. We provide specially tailored support for young people who provide care for someone. That's our Young Carers' service. We also have caring and experienced staff who provide specially tailored support for older carers and people caring for someone living with cancer. See our MacMillan service for more details 
A carer is defined as an individual who cares, unpaid, for a friend, family member or neighbour who would not be able to cope on a day to day basis without their aid.
There are over 6 million carers in the UK with thousands of those being based in Harrow. We work with carers to improve their lives and provide valuable support for them where they need it, such as mental health or physical wellbeing. Caring for people of all ages can take an emotional and physical toll which is why we are actively here in the Harrow community to provide the key support that carers need so that they can continue to provide care for their dependents.
Diverse Backgrounds
We have carers from a number of diverse background caring for loved ones with unique conditions. We take time and effort into understanding each and every one of our members so we can recommend the best options to improve general wellbeing.
A young carer is a young person aged up to 18 who is providing unpaid care for a person that an adult would normally provide, that has a physical or mental health problem including autism, dementia and learning disabilities, or is dependent due to age, substance misuse, long-term or terminal illness. Click here to visit our Young Carers page.
We strive to be the main destination for the carers of Harrow to relax, get help, improve skills and do so much more than just be a carer. We know the trials carers face which is why we work in the community to give carers a place that cares for you while you care for others. Our workshops, courses, activities and other events are all created based on the feedback we gain from carers on how useful they are and especially how enjoyable they are.
"Very helpful, Harrow carers always helped me in the past, still helping me in my difficult situation they have always been there for me."
– Raxa Kanbar
"Very helpful, Harrow carers always helped me in the past, still helping me in my difficult situation they have always been there for me."
– Raxa Kanbar